If you're here, it's presumably because you know all there is to know about English Bulldogs, from their colors to how much they typically cost (their price). You've just gotten a puppy and are curious about its eventual size.
We can't say that we're surprised by your decision to bring home such a cute puppy — after all, it's docile, friendly, and a bit of a couch potato, all of which are surefire sales assistants.
After bringing home your new English Bulldog puppy, you may be curious about its expected adult size and when its growth will slow down.
Not to fret! We've created this English Bulldog growth chart to help you track your lovely Puppy's development into a healthy adult.
With this handy growth chart, you can keep tabs on your English Bulldog's weight and height.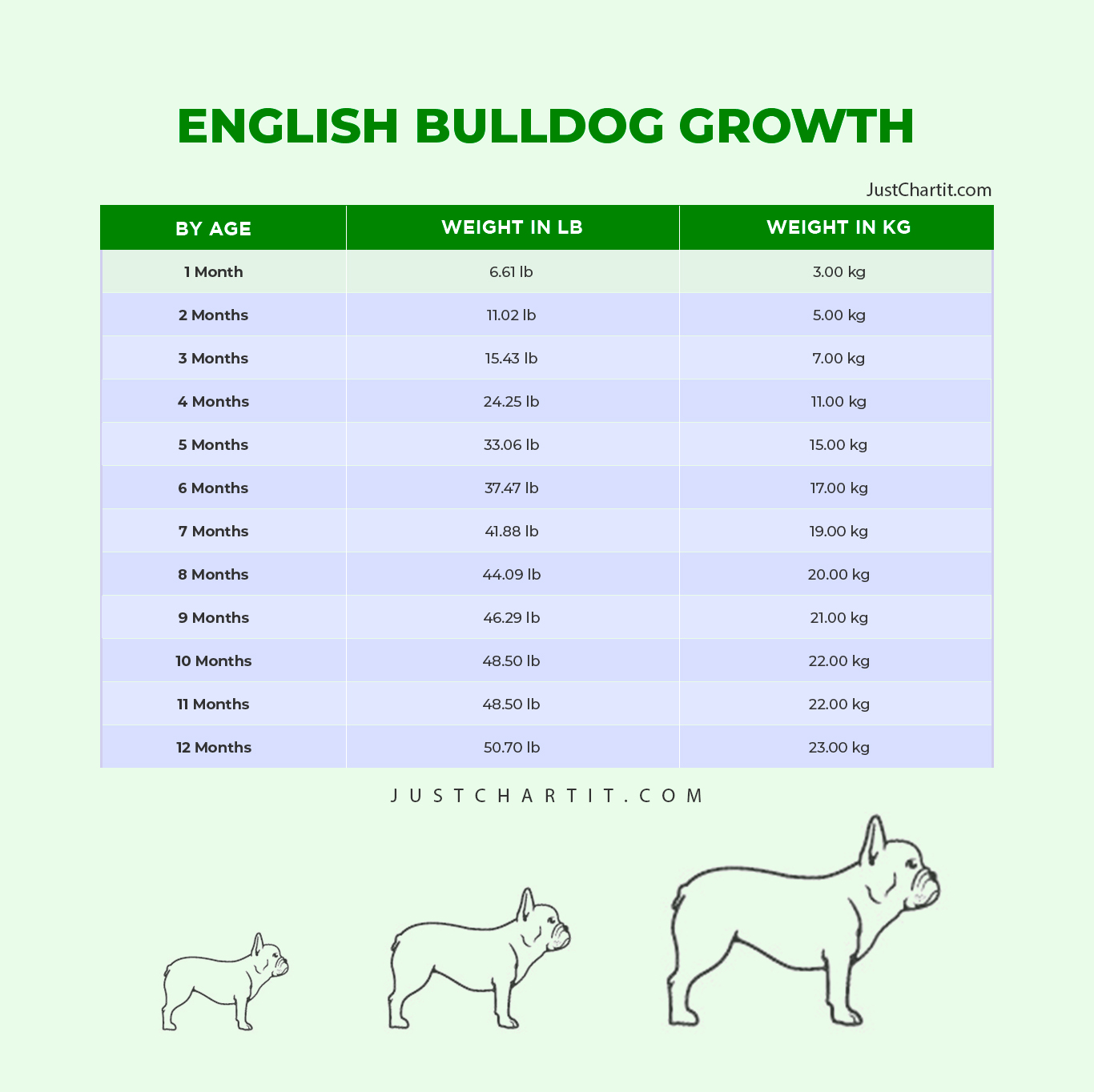 English Bulldog Growth Chart
| Age | Weight in kg | Weight in Ib |
| --- | --- | --- |
| 12 Months | 50.70 lb | 23.00 kg |
| 11 Months | 48.50 lb | 22.00 kg |
| 10 Months | 48.50 lb | 22.00 kg |
| 9 Months | 46.29 lb | 21.00 kg |
| 8 Months | 44.09 lb | 20.00 kg |
| 7 Months | 41.88 lb | 19.00 kg |
| 6 Months | 37.47 lb | 17.00 kg |
| 5 Months | 33.06 lb | 15.00 kg |
| 4 Months | 24.25 lb | 11.00 kg |
| 3 Months | 15.43 lb | 7.00 kg |
| 2 Months | 11.02 lb | 5.00 kg |
| 1 Month | 6.61 lb | 3.00 kg |
0 to weeks Old
An opportunity to observe the Puppy at such a young age is a rare treat. Due to their sealed eyelids, they cannot see or hear for between 0 and 2 weeks.
Puppies at this growth stage rely on their mothers and need little assistance from you. You must verify that the mother is not actively rejecting her offspring.
Puppies this young are entirely dependent on their moms for food and care. All you have to do is look after the mother dog. They need to be well-fed and rested.
Male English bulldogs may reach 0.31 pounds in weight by the time they are two weeks old, while females can get 0.25 pounds.
1 Month-old
In addition to healthy growth, English bulldog puppies' senses are fully developed by the time they are one month old.
They can hear the world around them now and are eager to explore it. They start interacting with their moms and siblings. At one month of age, English bulldog puppies start weaning themselves from their moms' milk.
It's important to transition them to a soft and moist dog food diet after they've stopped nursing and to avoid overfeeding them. Typically, male English bulldogs weigh 4-7 pounds at one month of age, while females are somewhat smaller at 3 to 6 pounds.
2 Months old
Puppies of the English bulldog breed are weaned from their mother's milk at about two months. Now is the moment to bond with your new pup and instill a sense of responsibility and obedience in him.
English bulldogs are recognized for their intelligence and rapid learning. Thus they naturally took to the trading world. It's essential to begin teaching the dog's behavior alongside the fundamental command. Start with a little session if you like.
They'll be fed three times daily, with quantities based on weight and height. At 2 months old, male English bulldogs typically weigh 9–12 pounds, while females typically weigh 7–10 pounds.
3 Months old
Many individuals choose to get a dog around the 3-month mark when their Puppy is ready to go home with them. Puppies are cuter and more fun to watch at this age. Maintain your Puppy's training sessions and introduce him to new people and environments.
Because kids adapt effectively at this age, behavioral instruction is crucial. Maintaining a positive attitude and encouraging good behavior are essential.
It would help if you started acclimating them to the cane now.
Male English bulldogs typically weigh 13-18 pounds at 3 months, while females usually weigh 12-15 pounds according to the English bulldog growth chart.
4 Months old
After a certain age, English bulldogs tend to become more jovial. This breeder-purchased Puppy must already know its way around your house and your people. But keep up the good work of obedience training and socializing them.
If you're not an experienced pet parent, taking your dog to puppy school is an excellent idea for socializing and training. At 4 months old, most male English bulldogs weigh 18–24 pounds, while females typically settle in at 18–22 pounds.
5 Months old
Your English bulldog is already relatively mature because he is only five months old. People of this age would have grown up with the practice of grooming and lash application.
Even still, kids like playing more than learning or eating. It would help if you used positive reinforcement to train their behavior. Earlier, we established that their enthusiasm for food makes it an ideal incentive for training success.
As part of this process, you should ensure they have many opportunities to interact with people and other animals and learn to recognize and adapt to the noises in their environment.
The ideal weight for a 5-month-old male English bulldog is 30-33 pounds, while the perfect weight for a 5-month-old female is 22-25 pounds.
6 Months old
By the age of 6 months, your English bulldog will have grown substantially in both height and weight. A typical adult English bulldog might expect to have attained their full size by the time it is 6 months old.
Since they are more eager to try new things, they may wish to take extended strolls. You may start taking them for short walks, but they should not be allowed to run, stroll, or even leap for any great distance until they are much older.
Even though they may resist changes at this age, keeping up with their regular schedule and any behavior training you've begun is essential.
At 6 months of age, the typical male English Bulldog weighs 33 to 37 pounds, while the average female weighs 26 to 30 pounds.
7 Months old
It's hard to find a cuter breed of dog than the English Bulldog. They take great joy in their owners' company and do what their owners ask. This will be useful for you throughout the training session. There should be no break in their training or socializing.
For them, exercise is a daily need; now, you may join them in this commitment. It would help if you considered taking him with you on your regular walk, but at first, take shorter strolls.
The typical weight of a male English bulldog at 7 months of age is between 38 and 42 pounds, while a female weighs between 30 and 33 pounds.
8 Months old
At 8 months, your English bulldog is attaining maturity. They have settled in well and have gotten to know everyone in the family. The English Bulldog prefers to spend much of its time with members of its human family. They dislike being abandoned for lengthy periods.
There's a risk they'll develop separation anxiety if they're abandoned for too long. They may exhibit abnormal behavior, including disobeying your commands or chewing on household items like furniture.
They may also develop depression if their anxiety is not addressed promptly. Take Puppy along on family outings, assuming they are dog-friendly. Or they should be accompanied by a family member.
Generally, a male English bulldog weighs between 42 and 45 pounds at 8 months of age, while a girl would be somewhat smaller at 33 to 36 pounds.
9 Months old
When they're nine months old, they ought to be as well-behaved as newborns. They need to listen to you and do what you say. As we've established, they act responsibly now to please their master.
An English bulldog is a family dog that loves to be the center of attention. You can keep them occupied while you're working by giving them a variety of clean toys to play with. Toys to gnaw on will keep them occupied.
On average, male English bulldogs weigh between 43 and 47 pounds at 9 months old, while females are smaller at 35 to 37 pounds.
10 Months old
At 10 months, your baby is so near to being completely grown up that you may not notice much difference between now and when they were much younger. They would do what you say if they were well-trained.
Keep up with their regular schedule of training and socializing. Longer walks are OK now that they are becoming more extensive, but they still need to rest and develop, so don't overdo it.
Hip dysplasia may be caused by excessive activity or stress on the body. An English bulldog at 10 months old typically weighs between 45 and 48 pounds (for a male) and 35 and 38 pounds (for a female).
11 Months old
You may consider your English Bulldog entirely developed now that they are 11 months old. I'm sure everything is going swimmingly at home and amongst relatives. They can't get enough of kid's games.
It would help if you kept up with their education and socializing. They've improved to the point that a daily workout regimen of 40 minutes is possible; however, you may break this up into two 20-minute sessions.
Generally, a male English bulldog weighs between 46 and 49 pounds at 11 months, while a lassie would be more petite at 37 to 40 pounds.
12 Months old
In honor of your adorable English Bulldog's first birthday, you'll host friends and family to celebrate at your home. A healthy English bulldog matures at the age of 1 year if it receives enough nutrition and adequate rest and is not wounded or unwell during this time.
Others, though, gain weight over two years.
At 12 months old, male English bulldogs weigh between 51 and 55 pounds, while females are smaller at 40 to 44 pounds.
Final Thoughts
As dog owners, we do our bit by making sure our pets have access to high-quality food, exercise, and at-home care, but we also know that this isn't enough and that we must take them for routine checkups at the vet.
Expert advice and early disease detection tests for your dog are both available from trained professionals. When it comes to our pets' health and happiness, prevention and early diagnosis are of the utmost importance. Get help from our English Bulldog Growth Chart!